The 2022 Golden Pin Design Award joins hands with 27 global media partners to promote quality award-winning designs
Golden Pin Design Award
2022-12-26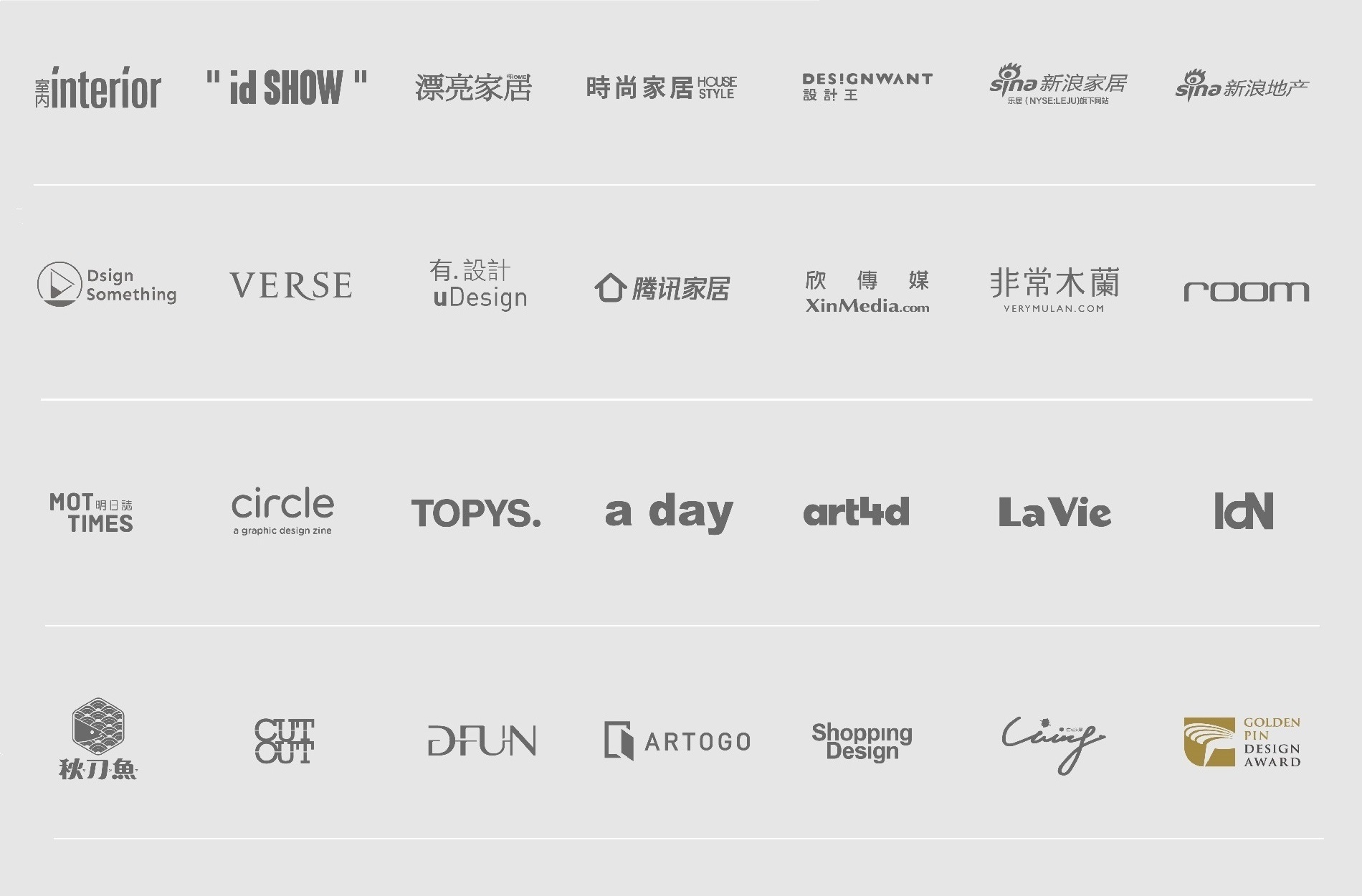 Ever since the Golden Pin Design Award started accepting international submissions in 2014, prominent domestic and overseas enterprises in design and related fields have vied for the annual honor. This year, the Golden Pin partnered with 27 iconic design media outlets based in Taiwan, China, Hong Kong, Malaysia, and Thailand. Many of them, including Taiwan's VERSE, ARTOGO, id SHOW, and House Style and Thailand's room Magazine and Dsign Something, were covering the awards for the first time. Our annual award winners are gaining increasing international exposure thanks to the joint efforts of our official media partners!
The 2022 Golden Pin Design Award collaborated with 17 Taiwan-based media partners from Taiwan. First-time partner id SHOW is a home design information platform on spatial and life aesthetics with nearly 500 designers, thousands of cases, and up-to-date interior design resources. It also functions as a comprehensive spatial design media outlet with extensive coverage of industry trends and leaders in Taiwan and global trend analyses. House Style, another new media partner, gives the inside scoop on domestic and international trends along with brilliant examples of current interior design, construction materials, quality products, and life aesthetics, as well as connects the industry with designers, making this platform the top choice for home improvements and aesthetic development.
Founded in 1989, interior is one of the oldest spatial design media powerhouses in Taiwan and a long-time partner of the Golden Pin Design Award. Each magazine issue recounts stunning examples of the industry's top architectural and spatial works with detailed design concepts, layout planning, unique construction methods, color aesthetics, furniture, and home décor. The bilingual (English and Chinese) content examines spatial design in an insightful manner that brings Taiwan closer to the world. MOT TIMES, a media outlet specializing in neighborhoods, urban areas, architecture, design, art, and literature, looks into domestic and international trends, presents breaking news, highlights industry figures, and produces special online features every year with comprehensive reportage that raises awareness on issues with the full context in an era that is better known for the rapid transmission of superficial information.
The Lion Group set up XinMedia in 2011 as a We Media business with guides in tourism, culture, aesthetics, fashion, health, and other fields. Already a household name in the Chinese-speaking world for its travel and lifestyle content, this light-hearted learning and sharing platform conveys the charm of architectural and spatial design to the public through global case reports and trend analyses. Now entering its 21st year as a central player in Chinese interior design circles, MyHOME has been committed to eliminating the information gap between consumers and experts, promoting the value of design, and spotlighting trends in home design and life aesthetics through its print, e-magazine, publishing, website, and social media operations as well as events and beginner to advanced classes.
This year, the Golden Pin Design Award has once again collaborated with LMG Media Group, which specializes in architectural and spatial design. Its online media outlet, DesignWant, illustrates spectacular designs on home decoration, residential housing, commercial spaces, select items, furniture, and décor by teams from across the world on a daily basis; while its Living & Design Magazine broadens readers' horizons with an extensive collection of global residential spatial design, first-hand reportage, and exhibition news.
In 2014, udnFunLife combined design media and e-commerce on the uDesign platform, with the sections Read.Design, Buy.Design, Theme Selection, and Crowdfunding Pre-Orders that pores through the latest trends to bring together the best in global design and creative brands, offer tips on life aesthetics, and provide quality product services. Similarly, La Vie explores lifestyle and art design trends to satisfy readers' need for aesthetic knowledge. Since its 2020 relaunch, La Vie has adapted and updated its brand image by diversifying into magazines, book series, websites, and social media to create rich, human-centered multimedia content.
Shopping Design selects "interesting, useful, and meaningful" design stories and interviews creatives with unique styles and good intentions to deliver a full array of content on lifestyle design, style economy, and cultural innovation through its website, social media, magazine, and podcasts. As an influential design and lifestyle media outlet in the Chinese language circle, it finds the ideal life by scrutinizing design. Since 2014, Circle has systematically conducted in-depth analyses on the significance and practical applications of different categories of graphic design, cultivated experimental-themed projects, released occasional physical copies of special issues, and fed designers with a rich spectrum of inspiration by spreading the news on social media platforms.
In addition to collaborating with professional design publishers, Golden Pin Design Award has been proactive in forming partnerships with media outlets in various fields of arts and literature. In 2020, media personality Tieh-Chih Chang positioned VERSE magazine as a brand-new hybrid media to delve into emerging cultural and social trends, evaluate the business strategies of creative industries, and inspect evolving values and perceptions on public issues in the contemporary Taiwanese cultural landscape. With its emphasis on design aesthetics and the reader experience, it has invented its own visual vocabulary—one that won the approval of the 2020 and 2021 Golden Pin Design Awards. Since its inception in 2021, the online exhibition platform ARTOGO has assisted over 200 arts and culture organizations to shape new types of experiences, preserved over 10,000 creations, accumulated millions of views on its rise to prominence in Taiwan, and churned out exclusive interviews and in-depth feature reports on exhibitions in its We Media branch ARTOGO zine.
As a spatial design magazine on crossovers, fashion, and aesthetics, DFUN defies convention by inviting eminent experts from outside of the design field to shine a new light on the aesthetics of furniture, space, and architecture in relation to lyric poetry, film, illustration, and music. Begun in 2012 as a social enterprise positioned as a matchmaker to help women fulfill their dreams and achieve self-realization, Very Mulan continues to chronicle the involvement of women from all walks of life in social innovation from the perspective of female empowerment to display women's value and power. As the first magazine on Japanese cultural impact on life, art, design, history, science, and technology in Taiwan, QDY magazine discusses one topic per issue from a variety of angles. Well received by Japanese culture lovers with an eye on bilateral exchanges, its unique and humorous visual aesthetics and editorial design won it the Golden Tripod Award for Best Lifestyle Magazine in 2017 and 2018 and Best Magazine Editor in 2017 as well as the Golden Pin Design Mark in 2017 and 2021.
Among our long-term media partners in China, web portal channels Sina Real Estate Design and Sina Homeware proffer fascinating cases and practical advice on architecture and interior decoration. They are also active in building communication bridges between upstream and downstream industry sectors driven by news, think tanks, product competitiveness, and social media. Another long-term Chinese partner, Tencent Homeware, is a renowned home furnishings platform with a full range of services in decoration, product evaluation, and industry trends. Second-time partner TOPYS, established in 2003 in both Chinese and English, is a dominant creative media platform whose output includes over 20,000 original articles including insightful interviews with hundreds of global trailblazers, more than 30 exclusive columns, and a wealth of content on design cases, brands, studios, and urban art culture.
Among our 6 international media partners are Hong Kong's IdN and Malaysia's CUTOUT, both entering their seventh year of cooperation with the Golden Pin Design Award. Published bimonthly in both Chinese and English, IdN compiles design works from around the world into themed graphic design guides covering packaging, infographics, brand identity, and more into a must-have publication for experts and enthusiasts alike. The fresh mindset on graphic design, pop culture, and exclusive interviews have won the semi-annual CUTOUT the Best Design of the 2014 Golden Pin Design Award and several international awards.
This year, Golden Pin Award also collaborated with 4 design media outlets from Thailand. Long-time partner art4d has maintained a strong reputation in the architecture, design, art, and creative fields ever since 1995 as well as encouraged exchanges with the international art and design community through its bimonthly publication available in both Thai and English. a day started in 2000 with a focus on Thai and Asian pop culture, creative design, social dynamics, societal developments, and current trends has made it an art and cultural social media influencer for Thailand's younger generation.
As one of the leading spatial design publications in Thailand, first-time media partner room magazine under the illustrious Amarin Group, centers on global interior and spatial design as well as modern home and life aesthetics. Another Thai first-timer is Dsign Something, a recently emerged online media publication about architectural, landscape, and interior design that seeks out classic creations from around the world in professional, high-quality themed reports and serves as a communication platform for architectural firms and interior design studios in Thailand.
The 2022 Golden Pin Design Award ceremony finished the year on a high note with its December 2 announcement of the winners for Best Design of the Year. This annual event celebrates quality design by recognizing its excellence and value and providing a platform for design and related industries to pave new paths toward the future. By collaborating with our global media partners to endorse award-winning works, we showcase outstanding designs from Taiwan and the world on an international stage. Our next call for submissions will be held in April next year. Please stay tuned to our website and social media platforms for more information.